Gif Challenge: What I'm doing this autumn
!!!Three cheers for awesome challenges!!!
I'm not good at planning far ahead. My brain is too busy overthinking everything. I mostly just wait and see what happens. That's probably also going to happen while I watch the colourfulness of autumn unfold in front of my eyes. Anyways there's a few things on my to-do list:

Hope you have some free time on your hands for this, y/y!?
1. college stuff
Classes start on Monday for me. I'm not ready for it. Oh well it's not going to change anything. Why can no one save me from boring classes? This is me most of the time:
I'd love to be more interested in certain topics. Alas I have the attention span of a chicken pecking at things. It's hard for me to really put my everything into school work. On the other hand I admire people who work hard to achieve whatever they want and still manage to be simply adorable and all smiley face about learning.
I wanna study with Dean (character of the tv series "Supernatural"). That'd be fun. Little productive I fear though. Well I never do more than I'm required to do since I'm a lazy ass. Feel free to judge me now! :D
2. Compensating for all the suffering
Let's get to fun activities. For me that's hanging with le bestie, playing video games, f00dz, doing jigsaw puzzles and nap timez. During autumn hiding in blankies is the most important part of my free time. Hand me a blanket, nomz and some hot cocoa and I'm in bliss.
Well a poncho works perfectly fine too!

Gross food is my life.

3. Birthday
It's my twin brother's and my birthday at the end of November. I always have somebody to celebrate with, cool huh? I have yet to decide what to do. I'm glad I can consult my bro. He knows how to party hard.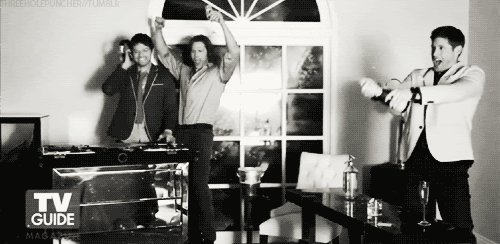 4. Watching Supernatural

Some of you may have noticed that I only used "Supernatural" gifs in this. Why? Because season 9 premieres TODAY!!! The internet is going to collapse and I cannot think of anything else than my favourite demon hunters. YUS! Autumn cannot get any better. I mean, who needs to go outside to watch leaves change colours when you can look at those guys?
You get my point, right?
I cannot wait to laugh, cry and simply feel what they feel while watching the show. It's gonna be amazballs and unicorns. Also my heart is going to explode watching Castiel going through a hard time. Supernatural is just a rollercoaster of emotions. My body is ready!

Let's #fangirl together, kay? Where are my Mishamigos at?
If you're not into Supernatural (why? *sobs*) just tell me something about your plans for autumn, please. Thanks.
You'll
♥
Loading related posts from sailthru...